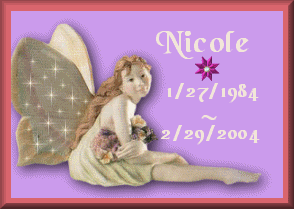 Loving you is easy
We do it everyday
Missing you is a heartache
That never goes away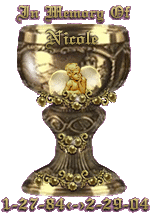 Nicole and Nick Making Christmas Cookies
When Nicole and Nick Both had to have Surgery
Taken Nicole's last Birthday

I would like to share with you a little about Nicoles life with her brother, Nick. I always told them there was not words to tell them how much they were loved and how special they were to us. Nick and Nicole made my life complete. The Lord surely blessed us when he gave us them and we were like any family with ups and downs but we always had lots of love. People always told us how lucky the kids were to have us but we always looked at it that we were the lucky ones to have them.

After Nicole was with us we got her little brother, Nick. He was born in Korea, also on Dec 9, 1986 and came into our lives on Jan. 21, 1987 Nicole was so exited about her baby brother.. She promised she would take care of him, and she was so good to Nick. As all brothers and sisters do they had there little fusses growing up just normal kids! You let someone do something to Nick, and Nicole was ready to get them. You just didnt be mean to her brother. They both had to have surgery and we got the bright idea that it would be easier to do them both the same day. WRONG!! Nick wouldnt let me put him down and Nicole was a little trooper. In all her surgeries she was so brave.


On the Saturday or Sunday before Nicole was in the accident she was laughing and she said Mom could you tell Nick I dont mind him borrowing my blank cd's but I wont him to please ask me first because I can see they are going missing! Nick has depended on Nicole a lot because he is so shy so she help him do a lot of things. Not long ago Nick was frying french fries and he had a pan that was to small the oil was boiling over, and he caught the burner on fire. I wasnt home so Nick calmly yelled upstairs to Nicole . Cole I need your help the oil is on fire. Nick did not know to use baking soda. Nicole ran down stairs and put baking soda on it. She laughed because Nick was so calm. He said he would never fry fries again.